A Halloween Tour of the Cemetary Belt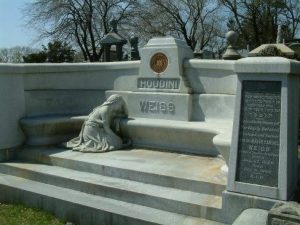 Only the brave should join us on a virtual tour of the Queens Cemetery Belt.
Thomas Wolfe wrote, "Only the Dead Know Brooklyn," but he must not have spent much time in Queens. This tour will take you to the Cemetery Belt – the great burial grounds of more than five million people, including everyone from Mae West to confederate soldiers.
We'll also visit Machpelah Cemetery, the final resting place (or is it?) of Harry Houdini, do some spelunking to get into Bayside's old Lawrence Cemetery, see the acid-washed faces of the angels of Calvary Cemetery, and visit Louis Armstrong at Flushing Cemetery.
The tour will be led by Heather Quinlan, board member of the Greater Astoria Historical Society, who is currently directing the documentary "This Is a Cemetery," about a paved-over cemetery in Staten Island.