Civil Rights on Long Island
October 18, 2021 at 7:00 pm

-

8:30 pm

UTC+0
Civil Rights on Long Island
Long Island has been in the corridors of almost all major turning points of American history, but Long Island has been overlooked as a battleground of the civil rights movement.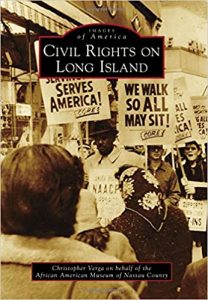 Christopher Verga is a local historian and American history lecturer at Suffolk County Community College. Christopher utilized images from local historical societies, private collections, and the African American Museum of Nassau County to create a narrative of civil rights challenges and triumphs. These photographed defining moments have become a testament to the future of an increasingly diverse suburb.
Since early colonization by the English settlers in the 17th century, the shadow of slavery has bequeathed a racial caste system that has directly or indirectly been enforced. During World War II, every member of society was asked to participate in ending tyranny within European and Asian borders. Homeward-bound black soldiers expected a societal change in race relations; instead, they found the same racial barriers they experienced prior to the war. They were refused homes in developments such as Levittown, denied mortgages, and had their children face limited educational opportunities. Collective efforts from organizations such as Congress of Racial Equality (CORE) and the National Association for the Advancement of Colored People (NAACP) employed civil disobedience as a tactic to fracture racial barriers.