Sunnyside Gardens by Jeff Kroessler!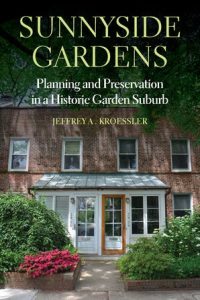 The first book devoted to this landmark
of architecture, urban planning, and social engineering.
Situated in the borough of Queens, New York, Sunnyside Gardens has been an icon of urbanism and planning since its inception in the 1920s. Sunnyside Gardens nevertheless endures as significant both in terms of the planning principles that inspired its creators and in its subsequent history.
Why this garden suburb was built and how it has fared over its first century is at the heart of Sunnyside Gardens.
https://www.eventbrite.com/e/sunnyside-gardens-planning-and-preservation-in-a-historic-garden-suburb-tickets-156597646777
Jeffrey Kroessler is a Professor at the Lloyd Sealy Library, John Jay College of Criminal Justice, CUNY, and author of The Greater New York Sports Chronology; New York, Year by Year: A Chronology of the Great Metropolis; Historic Preservation in Queens; and other works.
Signed copies available at the Astoria Bookshop!