Marine Air Terminal
September 12, 2022 at 7:00 pm

-

8:30 pm

UTC+0
LaGuardia Airport's
~ MARINE AIR TERMINAL ~
A STUDY OF ITS HISTORY AND SUGGESTION FOR ITS REUSE
The Terminal's Main Rotunda
Robert Singleton, Executive Director
Greater Astoria Historical Society
The Marine Air Terminal (also known as Terminal A) is an airport terminal located at LaGuardia Airport in Queens, New York City. Its Main Building (sometimes referred to as Terminal 'A', designed in the Art Deco style by William Delano of the firm Delano & Aldrich, opened in 1940. The terminal was built to handle Pan Am's fleet of flying boats, the Boeing 314 Clippers, which landed on the nearby Bowery Bay.
The Main Terminal building consists of a two-story circular core with a projecting entrance pavilion and a pair of two-story wings. The brick facade is painted buff, with black details, and contains a frieze that depicts flying fish. The three-story rectangular entrance pavilion contains a canopy and a set of doors leading to the terminal's main rotunda. The rotunda contains marble floors and walls, as well as the Flight mural by James Brooks. Both the interior and the exterior of the main building were declared New York City Landmarks in 1980, and it was added to the National Register of Historic Places in 1982.
Wikipedia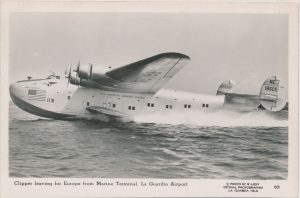 Clipper Leaving for Europe from Main Terminal
A SLIDESHOW ON THE AIRPORT'S HISTORY … and future?
WEDNESDAY, SEPTEMBER 28, 2022 / 7:00 PM – 8:30 PM