Interns learn care and conservation of archives
The society has several large collections: newspapers from the 1870s to 1960s, atlases for the metropolitan area, hundreds of hundreds of boxes of books, and tens of thousands of printed as well as digitized images. Each year the interns work on cataloging, housing, and shelving the GAHS collection these books, atlases, maps, and digital images under the supervision of a degreed archivist.
A special project warrants mention.
GAHS has of the Slater Map of Astoria and Ravenswood (1859), a part of our Vincent Seyfried Collection. It is one of two known copies (the other is in the NYPL) and is the only one, through our internship program, that has been digitized and made available to researchers.
The original print, measuring 46 by 58 inches, was in poor condition. It was glued to wooden backing, varnished, and further damaged in a benighted attempt made to remove the varnish.
The interns used a portable wand scanner to copy, through a clear cover, sections of the map. Over the course of several summers, a series of teams, are in the process of knitting sections together and are painstakingly restoring it to its original clarity.
It is estimated that the project will take at least five years.
It is an important teaching tool as each group, whose time is up, passes their knowledge and technique to the next interns.
MAP OF ASTORIA & RAVENSWOOD
T. & J. SLATER, CITY SURVEYORS (1859)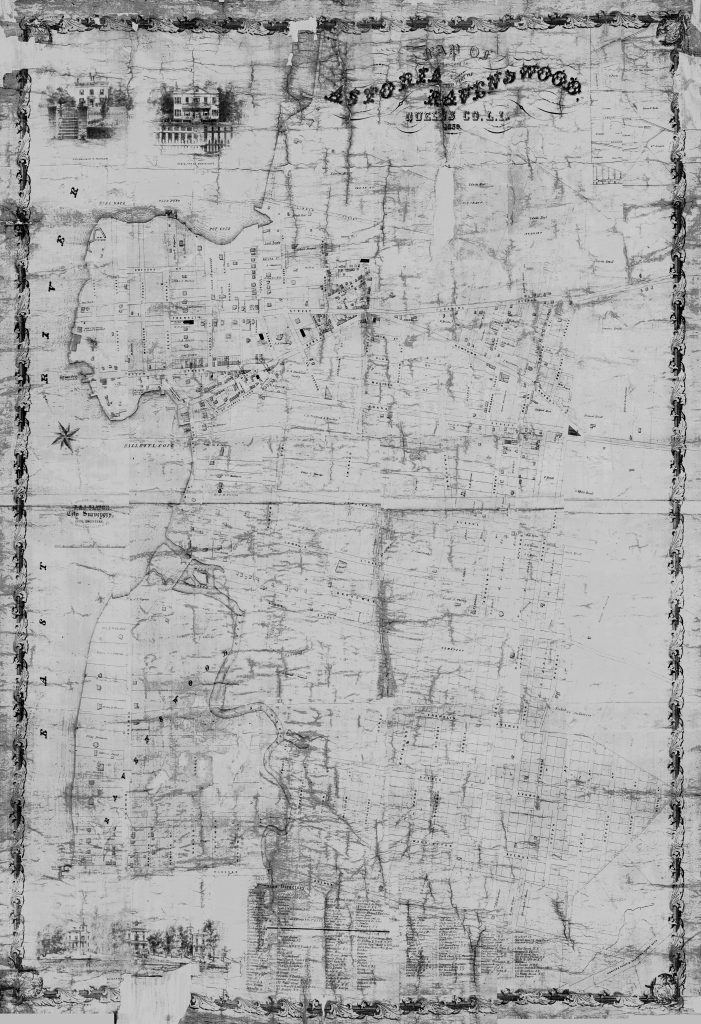 Partial restoration: Brian Isakov / Asher Lasday (2016)
Actual size
Width: 46 inches Height: 58 inches
Donated by: Vincent Seyfried