Marcus Loew and Loew's Theatres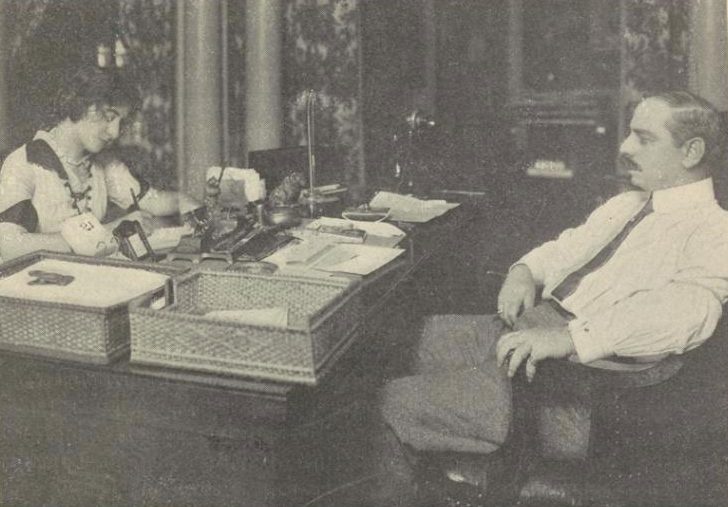 Marcus Loew was born to a poor Jewish family in New York City. He was forced to leave school at a young age and work at a series of menial jobs. He was fortunate to somehow land a job on a ferry boat and was able to save a nest egg to invest in a penny arcade business. Soon he was buying nickelodeons and began to build a chain of theaters.

Having venues to show entertainment made filling them with quality programs the next step. Loew began to acquire a stable of vaudeville acts, variety shows, and one-reeler films. He purchased several chains including Goldwyn Picture Corporation (including "Leo the Lion" trademark) and Metro Pictures. He was working with a virtual Who's Who of the early names in the motion picture industry: Lee Shubert, Samuel Goldwyn, Nicholas Schenck, Louis B. Mayer, and Irving Thalberg.

In the early 1920s the industry was still going through its growing pains. The movie industry was slowly gravitating to California, a place he was loath to relocate. His sprawling portfolio of theaters and entertainment content lacked a cohesive command structure. Loew was wise in acknowledging his limitations and hired an extraordinary team to run his conglomerate. He mentored a generation of theater managers and production executives.

Loew's Theatres became the most prestigious chain of movie theaters in the United States. For decades it was the financing arm of MGM Motion Pictures which soon passed Universal Pictures as the largest motion picture firm in the world.

In Astoria, a protégé of Loew, Michael Glynne, opened the 'Astoria Theater' on November 22, 1920. Shapiro and Sons was the architect for the 2,800 seat venue. Its location, at the corner of 30th Avenue and Steinway Street, assured that it would be an instant success. The opening night bill offered 'high class vaudeville and the finest feature photo-plays.' Music was provided by both a symphony orchestra and a $25,000 concert organ. Evening shows, which ran from 7 PM to 11 PM, alternated between live performance and movies. Seats ranged from 20 to 75 cents and could be reserved for the entire season.

It was an instant success.

In January 1923, three years after it opened, the chain of theaters managed by Glynne and his partner Ward, including the 'Astoria', were sold to Loew as a friendly merger. Glynne remained in residence, and at the inaugural program under the new management, Marcus Loew, the featured speaker, heaped praise on his former assistant.

For those who could crowd into the theater that evening, the evening was described as an unforgettable event. Four hours of live vaudeville and a short movie went on until midnight. In a show of support for Mr. Loew, dozens of motion picture stars were in the audience. The audience roared with delight at the antics of comedians as they sold popcorn and peanuts in the aisles. After the entertainers sorted themselves out, borough President Maurice Connelly, who led a delegation of officials, briefly stood up to heap praise on everyone present. But the true moment of the evening came when Marcus Loew himself took the stage and revealed something about his past that made the occasion truly special.

"I feel that I owe it to you," he started as those present quieted to a hush, "to tell you what is on my mind. I wish I could tell it to you how deeply I feel at this moment." He paused for a moment. "I have always wanted to come back to Astoria. You see, when I was a boy, I sold candy on the Astoria Ferry. All the people seemed to have plenty of money and many were generous. At that time, it was the most profitable source of money for me and helped me get started."

He brought down the house.

Loew never got to see the dynamo that MGM was to become. He died three years later of a heart attack at the age of 57 in Glen Cove, New York, and according to Wikipedia, he was interred in the Maimonides Cemetery in Brooklyn. For his very significant contribution to the development of the motion picture industry, Marcus Loew has a star on the Hollywood Walk of Fame at 1617 Vine Street.

To this day, the Loew name is synonymous with movie theaters.
---